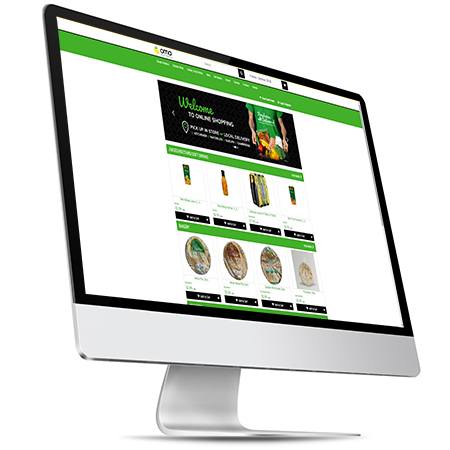 Increase Your Efficiency and Eliminate Silos with WebCart e-Commerce Click & Collect
Demand for digital e-commerce is creating a retail future where needs can be instantly communicated and instantly met, and customers like this virtual retail world – but only to a point. Customers still find the in-store shopping experiences satisfying when provided in the right ways. Brick and mortar merchants have a unique advantage over online e-commerce only retailers – they are able to create and maintain a physical face to face relationship with the customer, while enabling customers to touch and feel their purchases, and even instantly satisfy their needs with in-store stock and services – rather than wait for a shipment to arrive and potentially still have some assembly required. That being said, customers don't think it's an either-or situation – retail customers don't think it's a choice between online e-commerce WebCart or physical in-store purchasing anymore – they want both options whether the retailer likes it or not.
To keep customers coming back, physical retailers must leverage the local connection to the consumer while still evolving online to provide an omni-channel shopping experience. Catapult® WebCart™ is a revolutionary click-and-collect solution that is a seamless part of the Catapult Retail Point of Sale Software ecosystem that allows brick and mortar stores to step seamlessly into the digital realm. Click and Collect 2.0 represents a next generation approach to maintaining ecommerce and in-store retailing, seamlessly providing the ability to complete a transaction both online and in-store, and receive the same dynamic transactional experience respectively, no matter how complex the transaction.
The Same Transaction Everywhere
No matter where your shoppers are or how they wish to do their shopping, Catapult's single platform solution is able to utilize the same transactional data accommodate the sale and provide up-to-date data in real time. Whether online or in-store, shoppers will have a captivating experience that will keep them coming back.
Unified Transaction Logic
WebCart can execute any promotion or pricing scheme, no matter how complex, just like a transaction that occurs in the store. Customer loyalty rewards work online too, just as your customer would expect. Inventory information is always accurate because WebCart's e-Commerce engine accesses the same in-store data real time. Labour requirements for inventory item maintenance and price updates are reduced compared to competitive solutions because only one retail database needs to be maintained and the changes are available real time on both online and in-store platforms. Management of your e-Commerce system is simplified because nearly all features and functions of your WebCart are managed from within the Catapult Retail POS back office software suite. Say good-bye to 3rd Party silos with Catapult WebCart Click and Collect!
Easily Marketable
You get to choose the advertisements and promotions, colours and graphics for your WebCart, ensuring that your marketing "scent" in your online ordering system matches the general theme of your overall marketing efforts. You can even choose a customized URL for your WebCart providing that little extra touch of professionalism on your e-Commerce site.
Create sections and categories, manage the menus any way you need. Because the sections, brands, sizes, and categories are built into the inventory system in Catapult, adding items to these menus is all automatic once you configure the format you desire. Connect alternate terms to items so that similar search terms like cola, pop, soda, all lead to the same or similar products making it easier for your customers to search for items.
Connect alternate or "often ordered with" items so that when customers are shopping for specific things, they can be offered upgrades or complementary products automatically. For stores requiring health attributes, easily connect your Gluten Free, Vegan, or Vegetarian status' on items so that they can easily be filtered and found by your customers.
Simple WebCart Payment Options
After submitting orders through WebCart, shoppers can pay for their goods securely online, in-store, or pay at pick up curbside. When making an online order, credit authorization tokens gathered while shopping at the store can be used on future purchases making payment easier the next time they shop. Because it's Catapult all the discounts, loyalty points, and gift card options work as well!
Customer Info & Purchase History
Shoppers can review past purchases made online or in the store. They can also update and maintain their customer information such as address, phone number, email addresses, all online through the Customer Portal that's included with WebCart. They can even track their existing Loyalty Points and Promotions available if the store is using the optional Catapult Loyalty Points and/or LoyaltyBot systems.
Multi-Store WebCart e-Commerce
Using Catapult's multi-store capabilities, enterprise retail store operations can easily manage a multi-store e-Commerce . Launching a new WebCart site is a breeze, compared to a traditional Web store solution. The system automatically configures itself, based on the item data within Catapult's item management system.
The Most Powerful e-Commerce Click & Collect Picking Solution
The Catapult POS PickAssist feature is ideal for quickly picking and packing online orders from the web generated from your Catapult WebCart. To take full advantage of the Catapult pick solution, you need a compact but fast wireless mobile device. Unlike competing pick solutions, PickAssist allows you to process multiple orders at once, guiding personnel through the store using the most efficient pick order route possible. It also automatically re-transacts orders whenever deletions, additions and/or substitutions are made. You'll never have to rescan an order at the POS lane, an extra step that competing solutions often require. When the order is properly picked, the system alerts the customer with a text or email when their order has been picked and is ready for pickup. Additionally, this mobile POS solution is ideal when used to deliver web orders to the customer's car during curbside pickups.
Customer Pickup Reservations
For busier stores looking to better organize their in-store pickups and avoid customers unnecessarily waiting, the Catapult WebCart Click and Collect system allows customers to pick a convenient date and time slot to pick up their order. Merchants are able to configure how many order pickups they will allow in each time slot to avoid traffic jams at customer service or in parking spaces at the front of the store. For the few customers that just show up at any time, Catapult is flexible and easy enough to adapt to provide the best customer service possible to whatever customer service situation is thrown your way.