Stock Photo by Sean Locke www.digitalplanetdesign.com
The Link between POS Throughput and Sales
It's Black Friday tomorrow! Now I know, Black Friday is the huge shopping day after Thanksgiving in the US (and seems to be gaining popularity here in Canada), but it's so much more. That retailers and restaurant owners often don't understand the greater importance of this day is more than a little surprising. Whether it is Canadian or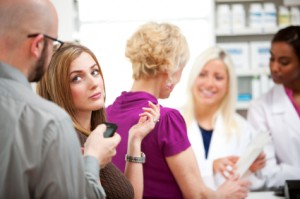 American, the symbolism of Black Friday for retailers and restaurant owners needs to be clearly understood. In addition to being a big shopping day for brick and mortar stores and online retailers alike, Black Friday is the date that accountants say retailers stop being in the "red" for the year and begin making a profit – or are in the "black". That retailers operate for 11 months of the year at a financial loss is a mind blowing concept that many people have a hard time coming to grips with.
Black is Good
Black Friday seems like such an ominous term. Too bad it can't be Green Friday… it sounds nicer, and more like money… but we Canadians don't have green money… Oh well. Black Friday it is and we should be glad for it. If nothing else it's a date on the calendar which seems to give us permission to pull out the garland, play carols over the loudspeakers, and start those Christmas promotions rolling. It gets customers excited about the Christmas season, even if they're not quite ready yet. So it's a calendar date you should mark every year as an important reminder of your need for POS Readiness.
What is POS Readiness, you ask? Have you taken the required steps to review your POS and make any necessary improvements and do the proactive maintenance on your point of sale system to ensure your Christmas season hums along profitably? Let me put it another way: If your profit for the year is earned over the next 4 weeks, it means that customers are going to spend more money over the next 4 weeks than they have all year. Ideally, you want them to spend a lot of that cash with you. Are you ready to take advantage of it? Remember, failing to plan is planning to fail.
Do NOT Make Customers Wait
I can't stand waiting to spend my money. In fact, I won't. I have too much to do, too little time to do it, and zero tolerance for wasting time being made to wait for a retailer. If I walk into your store or restaurant and see a line-up I may turn around at the door. If I don't turn around and end up in your checkout line, during my idle time waiting I start thinking about what is not being done while I'm waiting or what I have to do next. Make me wait too much longer, and if I don't really need or want the item you're selling me, or I think I can pick it up more conveniently somewhere else, I'm gone. This is death for a retailer. If I happen to find it at the next place easier, faster, and it's cheaper or better, I'm probably gone forever. I'm not alone in this behavior.
A recent retail time survey done by Great Clips, a Hair Salon chain, recently determined that your customers are not willing to wait long either – 5-10 minutes or less is considered reasonable by 94% of respondents. Any longer than that and they think your business is poorly run, or worse, that you don't care about their business. Long wait times was ranked 2nd by those surveyed as the thing that annoyed them most – it was a close second behind "rude staff" which was ranked number one.
Study Your Lines
Take an honest assessment of your lines – if you haven't opened your retail store or restaurant yet, look at the lines in the stores of your peers, and by lines, I mean the line-ups at the point-of-sale terminals or cash registers. Are they long? Are they too long? Get a stopwatch out if you have to. Do customers have to wait longer than 5 minutes to spend their money with you? To solve this you need to take a good hard look at your point-of-sale system. Do you have enough POS terminals to serve your customers at the busiest times of your year? In my experience the answer is no. That's because most retailers tend to say the same thing when investing in point-of-sale, "We're not that busy Monday to Friday, we really just need it for Saturdays," or my seasonal favorite, "We're only open from this date to that date, we really don't need it during the rest of the year." If there was ever a formula for retail or hospitality failure, that most assuredly is it. Most people buy their cash registers for the first 11 months of the year – and they think they can coast on what's "satisfactory" for the most crucial periods of sales. You can't. Not if you want your business to thrive over the long-term and have a loyal customer following.
Let me put it another way. If you wanted to move a pile of something from the front of your store to the back of your store, would you get it there faster and easier if I gave you one wheelbarrow or two? Now think of your POS system – your cash register – as your financial wheelbarrow, and you need it to carry the money of your customers from their pocket to your pocket. It's mission critical – you can't do it effectively or efficiently without it.
It's one of the simplest principles in retail – the more POS you have, the more money you make. You will find that more POS terminals increase your non-Christmas sales too. Why? If you're a restaurant your table turns happen faster due to the increased efficiency and redundancy, so your customers are more likely to come to you for breakfast, lunch, or before a movie time, when time is of the essence. Get them in and out quickly and they will return again and again. If you're a retail store, triple-A+ personality types like myself are more likely to stop on the way home after work for that quick one or two item pick up, and if happily affected, are more likely to make it a routine. But if you make me late for work after lunch, or drag out what has already been a long day while I'm trying to knock something off my "Honey-Do" list, you're never going to get me in your store again.
Cashiers! To Your Posts!
If a POS terminal is installed but there is no one there to man it, is it really there? If you do have enough POS terminals at your point of sale, please, PLEASE, man them with staff. There are few things more annoying to your customers than standing in line only to find that you have 5 POS stations but only two of them are open. If you doubt this fact consider your local bank, which is famous for having 7 teller wickets, but only two are open. Customers hate it. If you appropriately personnel your operation your customers will show their appreciation by spending more money in your store.
Every Business Has A "Black Friday"
I recognize that not everyone benefits from the wave of consumer insanity brought on by the Christmas season, but I would be willing to guess that nearly every retail operation has something similar to it. The Black Friday for a garden centre might be the Easter or Victoria Day weekend, depending where those dates fall and what the weather is like. Their "Christmas" season comes in the spring. They literally make it or break it during a short period of time between April and June.
So what's your "Black Friday"? Put another way, what is the most important day or days of the year for your business? What about Mother's Day, Father's Day, Valentine's Day, Halloween, Thanksgiving, or New Year's Eve? For summer seasonal businesses it's all about June to August, with their Black Fridays being the two or three coveted long weekends in between. The number of POS stations you have is directly linked to how you are able to cope with the increased sales volumes at those critical times. Your ability to cope with the increased traffic is directly linked to your image in the eyes and minds of your customers. Ultimately, what your customers think about you is the only thing that matters. Image is everything.
If you're reading this today, it may be too late for Black Friday, maybe even too late for the Christmas season of 2012. But it's never too late for a retail or restaurant manager to recognize this important customer service strategy. This lesson is universal for any retailer or restaurant; you just need to apply these principles to your busiest season and adjust appropriately. If you do, you and your customers will see a lot less red and your bottom line will be more likely in the black.
About Armagh POS Solutions
Armagh has been serving the retail, restaurant and grocery industries in Canada since 1979, delivering solutions for a range of operators from single-unit small businesses to multi-unit national chains.
We are specialists in touch screen and scanning point of sale (POS) systems for both restaurants and retail stores, cash registers, scales, liquor inventory control systems, and grocery label and wrapping equipment.
With 40+ years POS industry experienced the sales staff at Armagh provides experienced consultants in point-of-purchase management, customer service efficiency, process automation, and restaurant order management.
Armagh's award-winning Catapult Retail POS Software and Digital Dining POS Restaurant Software are best-in-class, and Armagh is a QIR and Diamond Toshiba Alliance Partner.